INTERIOR LANDSCAPE

Life within the cracks of the anthropocene
2022
Intstallation
DAE Grad Show Dutch Design Week
Home
Modernity's promise of continuous progress is far reaching and all consuming. It is now predicted that around 8% of the Earth's surface is engulfed by modern built-up environments.
1
A biome of concrete and glass that could reach from Hungary to Portugal and will continue to expand in the coming years. The interior's expansion is framed by modernity's straight lines and
Maison La Roche 1925 by Le Corbusier and Pierre Jeannere
an aesthetic that reinforces the detachment from nuanced landscapes and ecologies. At the root of this disruption are the disciplines of architecture and design; for it is through these professions that modernity's aesthetic spreads from furniture, rooms, houses, to cities; further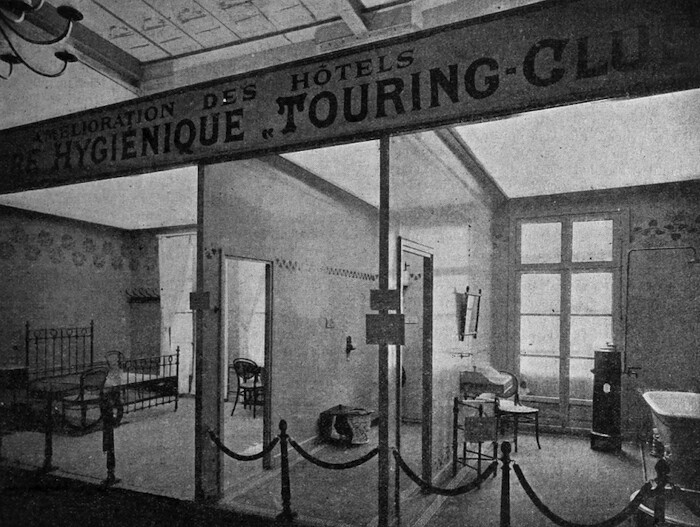 Second model "Chambre Hygienique" by Gustave Rives 1902. An easily disinfected "hygienic room" with minimal furnishings and no ornament or fabrics to attract microbes.
from the earthly materials and living things.
Modern architecture and design has detached itself from anything other than human, as if an anthropocentric ideology was built into their concrete foundations, assigning the more-than-human to the other side of the window. However, amongst this designed sterility there are signs of liveliness that flourishes between the cracks of the interior, the gaps that design missed.
2
The research asks how the built environment can transend its anthropocentric origins and become a landscape to relink the damaged relationships between humans and more-than-humans alike. Interior Landscape critiques the white cube of modernity by embracing the more-than-humans that live within the cracks of the interior – not seeing them as pests but as partners of multispecies reconnection.
By critically examining modern aesthetics in relation to ecology, a new sense of beauty that allows for spontaneous growth may arise within the cracks of the anthropocene.
3
In this sense, architecture might become the new foundation for a thriving kinship between humans and more-than-humans.
︎︎︎︎︎︎︎︎︎︎︎︎︎︎
1)
Encyclopedia of the World's Biomes
Michael Goldstein, Dominick DellaSala - Published June 2020
1)
When the Things We Study Respond to Each Other: Tools for Unpacking "the Material"
Anna Tsing - Published May 2019
2)
Evolution of the indoor biome
- NESCent Working Group on the Evolutionary Biology of the Built Environment - Published April 2015
3)
biodiversity is messy: a plea for wilder cities
- Marco Roos - Published October 2021.
︎︎︎︎︎︎︎︎︎︎︎︎︎︎
Research contributors

Rebecca Lewin
- The Curator of Exhibitions and Design at the Serpentine Galleries in London.
Rob Dunn
- Biologist / Ecologist who has written several books and science essays exploring the multi scaled life that surrounds us in our homes.
Julia Rijssenbeek
- A PhD candidate in Ethics of Technology at the Philosophy Group of Wageningen University. She explores the ethical and ontological implications of cell factories.
Angelo Renna
- an architect that has grown a particular interest in preserving and implementing natural elements in architecture.
Meredith Root-Bernstein
- A PhD in Ecology at the Pontificia Universidad Católica de Chile. The theme across Meredith's work can be described as ethnobiology